Nazywam się Mieczysław Kaźmierczyk i jest mi miło zaprosić do zapoznania się z moją ofertą.
Pochodzę z rodziny o dużych tradycjach pszczelarskich, które zapoczątkował mój Dziadek. Rodzinna tradycja jest u nas przekazywana z ojca na dzieci, tak, aby znajomość pszczelarstwa nie zaginęła. Zajmuję się hodowlą pszczół już kilkadziesiąt lat. Moi bracia również są aktywnymi pszczelarzami i dzięki temu mamy możliwość wymiany poglądów i doświadczeń w tak trudnej pracy, jaką jest hodowla pszczół.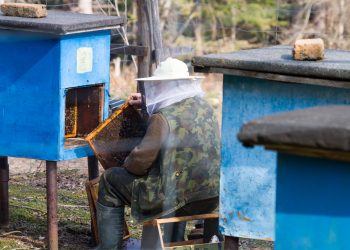 Wszyscy mamy własne pasieki położone w różnych miejscach Bieszczad – jedynego takiego miejsca w Polsce, gdzie nie ma żadnych skażeń ekologicznych, a powietrze i woda są najczystsze w Polsce. Pszczoły są bardzo czułym testem na skażenie środowiska, a dzięki warunkom ekologicznym w Bieszczadach oraz bujnej florze, mamy gwarancję ich prawidłowego rozwoju. Moje pasieki są to stacjonarne pasieki leśne, które położone są w najdzikszych ostępach leśnych – w paśmie Otrytu. Są one położone z dala od osiedli ludzkich i dróg publicznych, gdzie pszczoły żyją w ciszy i spokoju i nie są denerwowane ludzką działalnością.
Przez wszystkie lata mojej pracy pszczelarskiej poznawałem zwyczaje pszczół i doskonaliłem techniki hodowlane. Przez te lata wypracowałem swoją własną technologię hodowli pszczół. Przez wieloletnią pracę dopracowałem się również własnych projektów uli. Praca pszczelarza, to jest praktycznie zajęcie całoroczne. Już w zimie trzeba sprawdzać stan pasieki, wiosną zaczynają się intensywne prace począwszy od gospodarczego przeglądu pasieki, a skończywszy na przygotowaniu ramek, węzy. Lato to najgorętszy i nie tylko w przenośni, okres dla pszczelarza. Wtedy oprócz normalnych prac gospodarczych jest okres żniw, czyli miodobranie. Jesień to okres przygotowań pasieki do zimy, a także podawanie pszczołom leków przeciw Warrozie. Do tego wszystkie muszę przez cały rok dbać o otoczenie pasieki – zabezpieczyć ogrodzenie, remontować ule, kosić trawę – odchwaszczać teren pasieki. Dzięki temu moje pszczoły utrzymują się w bardzo dobrej kondycji zdrowotnej mimo ostatnich ciężkich dla nich lat.
Moja działalność jest oficjalnie zarejestrowana, jako Gospodarstwo Pszczelarskie numer zezwolenia weterynaryjnego 18015601
Pasieka
Moja pasieka położona jest w lesie w paśmie Otrytu, którego część należy do  chronionego  obszaru  – Park Krajobrazowy Doliny Sanu. Na jego południowych stokach znajdują się rezerwaty przyrody Hulskie i Krywe. Pasmo Otrytu ciągnie się na przestrzeni ok. 18 km lesistym grzbietem,  od Smolnika po Jezioro Solińskie, zamykając od północny najwyższe pasma górskie Bieszczad. Las porastający Otryt jest mieszany, głównie jodła, buk i jawor. Na terenach po dawnych wsiach licznie rosną zdziczałe drzewa owocowe, a także olchy, wierzby. W poszyciu dolnym prym wiodą maliny, jeżyny oraz jagody czarne. W wielu miejscach Otrytu można spotkać fragmenty starych, dziewiczych nietkniętych jakąkolwiek działalnością gospodarczą – lasy pierwotne – pozostałość po danej Puszczy Karpackiej. Leśne polany szczególnie wiosną pokryte są malowniczymi i bardzo kwiecistymi zespołami ziołoroślowymi.
Otryt jest to jedno z najdzikszych miejsc w Bieszczadach. Żyją tu niedźwiedzie, wilki, rysie, jelenie, dziki, żubry i wiele pomniejszych gatunków zwierząt. Z tego też względu pasieka musi być bardzo dobrze zabezpieczona przed nieproszoną wizytą dzikich zwierząt. Szczególnie niedźwiedź jest częstym gościem w mojej pasiece, ale tylko raz udało mu się pokonać ogrodzenie i przysporzyć mi dużych strat. Pasieka jest na stałe monitorowana on-line przy pomocy kamer.
Przed II wojną światową Otryt był w części zamieszkany – wsie Otryt Górny, Otryt Dolny, Skorodne, Rosochate. Prowadzona była tam działalności rolnicza i hodowla bydła. Po drugiej wojnie światowej całe pasmo Otrytu oraz wsie u jego podnóża zostały wysiedlone, a ekspansja przyrody zrobiły swoje. Otryt stał się miejscem bezludnym. Od miejsca położenia mojej pasieki do najbliższych osad ludzkich jest kilkanaście kilometrów.
Pasieka jest objęta stałym nadzorem sanitarno – weterynaryjnym.
Miody
Ze względu na położenie mojej pasieki – bieszczadzka śródleśna polana, mam następujące rodzaje miodu:
Uwaga tylko miód naturalny ulega krystalizacji, która występuje zwykle w ciągu 3 – 4 miesięcy. W warunkach domowych, skrystalizowany miód można doprowadzić do stanu płynnego poprzez zanurzenie słoika z miodem w wodzie o temperaturze maksymalnie 40°C. Nie jest wskazane podgrzewanie miodu w wyższych temperaturach, gdyż traci on wtedy właściwości lecznicze i bakteriobójcze.
Oferta
Miód bez względu na jego rodzaj jest konfekcjonowany w:
Słoiki szklane typu twist-off o pojemności 0,9 litra. Waga netto od 1,3 do 1,5 w zależności od rodzaju miodu. Słoiki i nakrętki są nowe i kupowane bezpośrednio w hurtowni. Każdy słoik ma etykietę ze wskazaniem rodzaju miodu, datą ważności oraz posiada papierową "plombę" potwierdzającą zamknięcie oryginalne słoika przez pszczelarza
Atestowane pojemniki plastykowe do przechowywania żywności, o pojemności 5l lub 10l. W tych pojemnikach  realizowane są większe zamówienia wysyłkowe.
Bezpośrednia w domu pszczelarza. Adres i sposób dojazdu podany w zakładce kontakt. Przed przyjazdem proszę o kontakt telefoniczny.
Zamówienie przez internet z wykorzystaniem poniższego formularza lub mailem.
Zamówienie listowne – adres w kontaktach
Zamówienie telefoniczne – numer telefony patrz kontakty
Sposób realizacji zamówienia:
Bezpośrednio w domu pszczelarza
Wysyłka pocztą lub kurierem